Introducing the new Eurotherm E+PLC PID controllers! These controllers combine Eurotherm analog control with a complete standard IEC 61131-3 programmable logic controller environment.
E+PLC is an open standards based PLC platform combined with decades of knowledge in precision PID control and secure recording packaged in function blocks for incredibly easy implementation.
• Standard CODESYS platform
• No learning curve – standard IEC 61131-3 programming
• The best in PID control and secure recording packaged for quick, easy implementation.
Precision measurement
E+PLC offers precise measurement of process variables to give accurate,
repeatable results which translate into optimized energy usage. Its precision
is based on the fundamental requirement that to control accurately, you need
to measure precisely.
The greater precision offered by this platform can: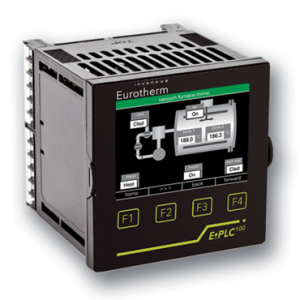 reduce energy usage
shorten processing times
minimize waste
improve final product quality
. . . and, most importantly, increase your profitability.
Heat Treatment and Special Processes
The E+PLC platform offers proven performance and efficiency, using algorithms that have been developed by Eurotherm through its close partnership with the Heat Treatment Industry. Its design is based on deep understanding of both process requirements and the regulations that govern this market sector. The precision measurement, stable control and secure recording functionality provided by E+PLC delivers accuracy and simplified regulatory compliance with reduced engineering costs for heat treatment processes.
Please see the brochure below for more information, or download the brochure by clicking here.
Please contact us if you have any questions regarding this new product!
E+PLC
---
Our purpose is to correctly identify needed items and have them delivered on time at maximum value. We routinely handle this by direct contact with our customers, maintenance operations, production, engineering and/or purchasing. If in doubt as to our scope of supply, please contact us via our online form or call us at (800) 446-4316.