The nanodac offers the ultimate in data recording and PID control in a compact ¼ DIN panel mount unit, with four high-accuracy universal inputs. This secure device is enhanced by a full color, ¼ VGA display to bring a crystal clear operator interface to even the smallest of machines.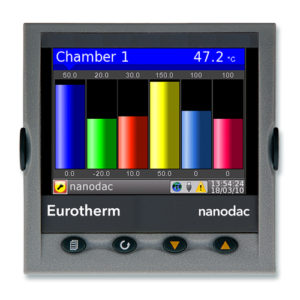 Specifications
Click here to download the full nanodac Data Sheet as a PDF.
EtherNet/IP Client or Server mode
Available as an option, the nanodac recorder/controller can be easily integrated with an existing instrument network and act as local data historian. When enabled, EtherNet/IP allows the nanodac to act as either a Client or a Server and provides data recording for up to 30 process parameters (via virtual channels). EtherNet/IP provides two user pages, the first is an overview of all the process parameters (data points) being addressed via the communications. The second is a diagnostics page that can be used during initial setup and commissioning, to test the connection, between the Client and/or Server.
3 x Isolated DC Outputs (DDD)
This release provides support for Isolated DC Outputs in option slots OP1, OP2 and OP3. Please refer to the Installation sheet or User Guide for wiring instructions.
Washdown Front
An optional IP66 rated Wash-down bezel has been made available in this release, making the nanodac suitable for applications in Food & Beverage or CIP/SIP.
Crystal clear, colour display
The 3.5" TFT display offers incredibly clear visualisation of process parameters with a wide selection of configurable views to best suit the application. Views include: Setpoint Programmer Interface and Programmer Furture Trend; Horizontal and vertical trends; Numeric; Alarm panel, Alarm status, and control loops. The unit also provides user wiring from the front of the product for detailed configuration without the need to connect to a PC.
Data Acquisition and Recording
The nanodac recording functionality utilizes the secure strategies and UHH format developed by Eurotherm through years of recording expertise. As well as multiple real-time views and historical review on the product, multiple data archiving strategies are provided utilizing the 50MB onboard Flash memory, removable USB and data transfer via FTP to a specified server.
The four universal input channels provide high accuracy (suitable for use in Nadcap applications) and 125ms parallel sampling. An additional 30 virtual channels can be utilized to provide maths, counter, slave communications and totalizer functionality with the instrument.
PID Control Loops
The nanodac instrument can also be upgraded to provide two independent control loops or the advanced cascade loop. The two independent control loop utilize the advanced Eurotherm PID algorithm providing high performance and reliability to your process. The standard dual loop selection also includes one of the best auto tune facilities available along with overshoot inhibition (cutbacks); compensation for power fluctuations using power feedforward; linear, fan, oil and water cooling. The all-new advanced cascade loop allows ease of setup and tuning when cascade control is needed. This application block allows the operator to set up individual set point ranges and tune the cascade loop, something unique to the nanodac.
Heat Treatment is one of the many processes that often need to vary the set point of the control process over a set period of time; this is achieved by using a set-point program. The nanodac offers an optional Dual Programmer option supporting up to 100 programs locally, each program supporting 25 segments. The nanodac also provides remote access to a further 100 programs that can be easily retrieved via FTP and 100 programs using the USB memory stick.
---
The nanodac recorder/controller may be the best fit for your application. Please call us at (800) 446-4316 or email for more information.