We proudly supply Pyromation thermocouples and related temperature sensing equipment.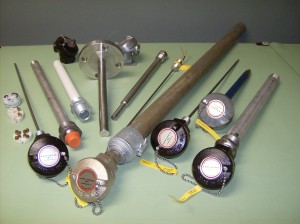 About Pyromation, Inc.: Pyromation has been manufacturing quality temperature sensors for over 50 years. The complete line includes RTD assemblies, thermocouples, thermowells, connection heads, complete temperature sensor assemblies, and a wide variety of accessories, including wire, transmitters, pipe wells, connectors, and instrumentation. Special Purpose and sanitary sensors are available for most applications and industries.
We are eager to assist you in identifying the most appropriate equipment for your operation's unique needs.
Please contact us with any questions you may have.
We will soon be updating our website with specification data for the many types of sensors we supply, including:
General Purpose Thermocouples

Industrial
MgO Thermocouples

Plastics
Special Purpose
Explosion Proof
Hazardous Location Explosion-Proof Approved Fixed-Element Assemblies
Hazardous Location Explosion-Proof Approved Assemblies with Thermowells
Hazardous Location Explosion-Proof Approved, Spring-Loaded Assemblies
Food, Dairy, and Pharmaceutical
Penetration Style Sensors
Penetration Style RTDs and Thermocouples
Bearing Sensors
Miniature Temperature Sensors
Accessories
Handheld Thermocouple Probes
---
If in doubt as to our scope of supply, please contact us via our online form or call us at (800) 446-4316.