Description
The INTEMPCO series LTX15 dual-probe level sensors are primarily designed for continous level measurement of corrosive liquids in metallic or non-metallic reservoirs. The selection of corrosion-resistant materials used for the probe and process connection ensures that LTX15 can withstand extremely corrosive media. This sensor is ideal for swimming pools, water treatment plants, petrochemical, pharmaceutical and many other commercial and industrial applications. LTX15 is low cost and intended for OEM's.
The LTX15 level transmitter is well suited to measure the levels of very thick conductive liquids or slurries. Because the probes are some distance from each other, they will not easily clog.
The probe measures level by measuring the change in capacitance as level changes in the tank.The microprocessor- based electronics converts this capacitance change into a linear, highly accurate 4-20mA signal.
The compact, microprocessor-based design makes installation and setup a simple task. The advanced signal conditioning circuitry greatly minimizes the adverse affects of coating media.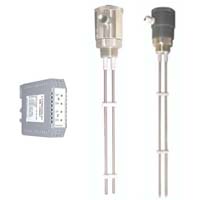 Features
For non-metalic and metalic tanks
Compact dual rod design
Accuracy 1% of span
1-1/2" NPT thread standard fitting
Heavy duty industrial design
With FEP fitting, all wetted surfaces FEP
Application
Pharmaceutical plants
Waste treatment plants
Water storage tanks
Chemical holding tanks
Food and beverage industry
Acids and very corrosive liquids
Do not use with: Vegetable oils, Fuel oils, MEK and other solvants
---
Please call us at (800) 446-4316 or contact us here for more information on continuous capacitance level switches, other level sensing equipment or for any other process variable control needs.