Description
INTEMPCO LTX01 series 2-wire level transmitters are highly reliable microprocessor based sensors designed to measure tank levels of liquids and certain dry bulk media in metal tanks. LTX01 sensors measure the change in capacitance that occurs as the tank level changes and outputs a standard loop-powered 4-20mA signal. After calibration any change in level is recognized and converted to an analog 4-20mA signal. LTX01 sensors use very high frequency and very low amplitude sensing circuitry to greatly minimize the effects of coating on the sensing probe.
The LTX01 includes a standard 4-20mA loop powered LTX transmitter housed in a rugged enclosure, a 0.50 inch diameter rigid probe for ranges up to 20 feet and a mounting fitting. A remote mounted DIN Rail transmitter is also available when calibration at enclosure is not practicle. Probe material is SS316, supplied bare or PFA FEP jacketed. The LTX01 is designed for tanks which have fitting connections of 1/2 NPT or larger.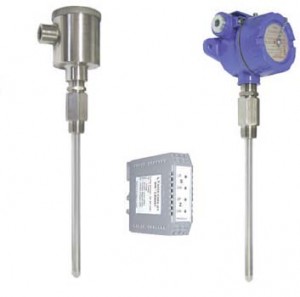 Features
Continuous loop powered 4-20mA operation
Microprocessor Based
Accuracy 1% of span for constant dielectric of material
Non-interactive zero and span calibration
Calibration accomplished with 4 push buttons
Heavy duty industrial design
NEMA rated aluminum, stainless, PVC and explosion proof housings available
Standard fitting 3/4" NPT, flange and special fittings available
Application
Water and water-based liquids.
Jacketed probes required for conductive media
Organic Acids
Oils and fuels in some metallic tanks
Use bare probes with non-conductive media
Use cable probes where top side access is limited
On-site calibration required
Not recommended where material dielectric changes
Tank must be conducive or grounding may be required or see other Intempco level probes.
---
Please call us at (800) 446-4316 or contact us here for more information on continuous capacitance level switches, other level sensing equipment or for any other process variable control needs.