Description
The LSC52 is truly a high quality sensor, which can be used in harsh environments, for liquid level limit detection in metallic and non-metallic tanks containing electrically conductive and non-conductive liquids. The probe, fitting and housing are constructed of stainless 316, the isolator is FEP. The LSC52 sensors feature built-in protection against reverse polarity, overvoltage and electrical shielding to deliver long-term reliability. The output is relay SPDT which can be configured as either NO or NC or both NO and NC.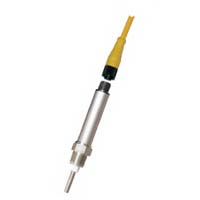 Features
All Stainless 316 construction, FEP isolator
Probe bare stainless or PFA FEP clad
Integral electronic switching
Set-point calibration via one wire
Built-in slosh dampening
Hermetically sealed, vibration resistant construction
Operates on RF capacitance principle
For conductive and non-conductive liquids
Minimum or maximum limit detection
Application
Limit detection for all type of liquids
Use FEP clad probe for conductive liquids
Use bare SS probe for clean non-clogging oils and fuels
For side mount and bottom mount tank applications
Leak detection
Coolant level monitoring
---
Please call us at (800) 446-4316 or contact us here for more information on miniature level switches, other level sensing equipment or for any other process variable control needs.