Description
INTEMPCO LTX02 series 2-wire level transmitters are essentially LTX01 transmitters assembled with a concentric tube. As such LTX02 sensors can measure tank levels of liquids in metallic as well as non-metallic tanks. All other performance specifications are identical to LTX01 sensors.
Level measurement of water based liquids in non-metallic tanks, using a FEP coated probe is an ideal application for the LTX02. To obtain a linear output in an irregularly shaped tank, such as a cone, use a concentric tube LTX02. For oils and mineral based liquids in non-metallic and metallic tanks use LTX02 with a bare SS316 probe. Make sure that the liquids are compatible with SS316 and PFA FEP materials.
The LTX02 includes a standard 4-20mA loop powered LTX transmitter,a rugged customer selected enclosure, a rigid bare SS316 or FEP coated probe, concentric tube for ranges of up to 20 feet and a fitting. The LTX02 is designed for tanks which have fitting connections of 3/4 " NPT or larger. Call factory for smaller tank openings or special applications.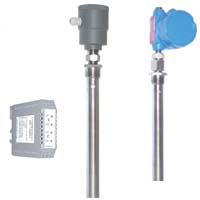 Features
Continuous loop powered 4-20mA operation
Microprocessor Based
Accuracy 1% of span for constant dielectric of material
Non-interactive zero and span calibration
Calibration accomplished with 4 push buttons
Heavy duty industrial design
NEMA rated aluminum, stainless, PVC and explosion proof housings available
Standard fitting 1-1/2 " NPT, flange and special fittings available
SS316 outside tube
Choice of bare SS316 or FEP coated probe
Application
Water and water-based liquids in non-metallic tanks.
Jacketed probes required for conductive media
Organic Acids compatible with SS316
Oils and fuels in metallic and non-metallic tanks
Use bare probes with non-conductive media
On-site calibration required
Not recommended where material dielectric changes
---
Please call us at (800) 446-4316 or contact us here for more information on continuous capacitance level switches, other level sensing equipment or for any other process variable control needs.