Description
INTEMPCO has released a new family of LTU series ultrasonic level probes. The LTU10 is the most powerful and penetrating sensor in this family. It is relatively large and features a PVC housing with 6" NPT face mounting and 1" NPT cover mounting. Due to its high power output, the LTU10 is capable of measuring dry bulk powders under dusty conditions up to 90ft range.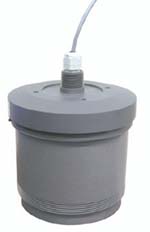 Features
Simple push-button calibration (Accurate)
Output 4-20mA / 20-4mA
Built-in temperature compensation
Optional RS232 or Rs485 communications with calibration, diagnostics and data logging software
PLC compatible
Three or four wire operation
Sefl cleaning operation of sensor face
1" and 6" NPT process connections
Application
Food and beverages
Water / Waste water
Chemicals
Oils
Solids and powders: grain, potash, cement, plastic pellets and many others
---
Please call us at (800) 446-4316 or contact us here for more information on ultrasonic level transmitters, other level sensing equipment or for any other process variable control needs.