Description
The Intempco LTU01 i-sonic™ is an intelligent liquid level transmitter measuring by a non-contacting ultrasonic principle. It is available in two measuring ranges (6m and 10m) and has a scalable 4-20mA output and a programmable relay. Calibration is performed via simple touch magnet programming using supplied special magnet.
The LTU01 i-sonic™ ultrasonic transducers, with very high efficiency, narrow beams and wide frequency bandwidth, work in many conditions over wide temperature ranges. With the help of sophisticated digital processing they eliminate unwanted echoes from tank walls, standpipes and many other build-ups.
One of the major features of the LTU01 i-sonic™ is its one-piece molded Polypropylene housing construction. It is hermetically sealed to IP68 ingress protection which means that it can be submerged under water for indefinite period of time. Outside installations under rain, snow and ice conditions are possible with no further protection. It can be used in all non-combustible liquid level applications compatible with Polypropylene housing material.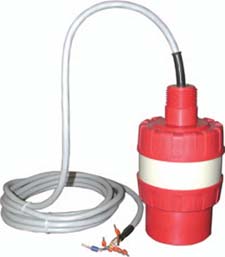 Features
Calibration via simple touch magnet
Ranges of 6m and 10m available
Excellent sensor focusing : 5o total beam angle
Output is 4-20mA galvanically isolated and with relay output
Built-in temperature compensation
PLC compatible
Power input DC or AC
One-piece molded Polypropylene housing hermetically sealed
Ingress Protection to IP68 (NEMA 6P), indefinite immersion in water
1" and 2" process connections
Application
Acids
Water /waste water
Chemicals
Oils
Adhesive materials
Food and beverage
---
Please call us at (800) 446-4316 or contact us here for more information on ultrasonic level transmitters, other level sensing equipment or for any other process variable control needs.