Description
Featuring TDR (Time Domain Reflectometry) technology, the LTR01 Guided Wave Radar level transmitter provides continuoius level measurement in liquids, slurries, and solids up to 65 feet with isolated analog output. This innovative device has almost no installation restrictions – it can be mounted in small tanks, tall and narrow nozzles and it measures precisely, even with difficult tank geometries or close to interfering structures. The LTR01 is ideal for various types of processing and storage applications and has an exceptional performance in liquids with low reflectivity such as oils and hydrocarbons. TDR technology is not affected by pressure, temperature, viscosity, vacuum, foam, and dust changes in dielectric constant or coating of the probe. The LTR01 can measure virtually any product with a dielectric constant greater than 1.3. The LTR01 ships pre-calibrated precisely for the customers application for quick installation on their own in the field. The LTR01 settings may be configured via RS485 Modbus communicator and its software.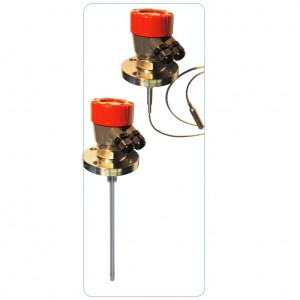 Features
Revolutionary TDR(Time Domain Reflectometry) Technology
Auto Calibration to any dielectric
Precise continuous level measurement
Measures liquids, slurries, and solids
Highly robust radar measurement due to a 4-wire design and innovative signal analysis and disturbance signal suppression
Features RS485 Modbus communication and LTR01 software
Measures up to 65 feet
Pre-calibrated from factory for easy installation
High temperature applications
Programmable fail safe mode
Economically priced
Application
Chemicals
Petrochemicals
Cement
Building Aggregates
Energy
Food & Beverages
Oil & Gas
Pharmaceutical
Pulp & Paper
Wastewater
---
Please call us at (800) 446-4316 or contact us here for more information on level transducers, other level sensing equipment or for any other process variable control needs.