Description
The Intempco LS04 level switch is a highly reliable sensor which can detect the presence of solids, liquids, as well as liquid-liquid and solid-liquid interfaces. It has both N/O and N/C contacts for high and low level indication. The LS04 has a stainless steel probe with either FEP or UHMW insulation, and has its solid state circuitry housed in a cast aluminum, moisture sealed explosion-proof NEMA 4X head. The LS04 holds calibration over a wide range of temperatures, making it ideal for outdoor as well as plant use.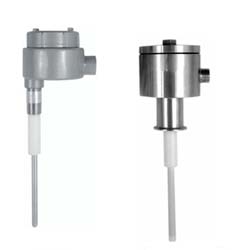 Application
2 point grain level indication
Liquid interface indication
---
Please call us at (800) 446-4316 or contact us here for more information on capacitance level switches, other level sensing equipment or for any other process variable control needs.